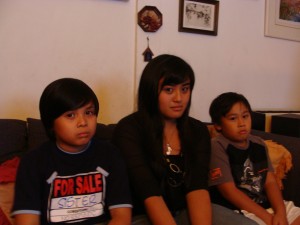 The National, October 23, 2009
Michael Trinanis is eight. Like most children born in Israel, he likes football, learns English in school and when he bickers with his older sister, he does so in Hebrew.
But Michael is not a typical Israeli boy. As the son of illegal Filipino workers he is facing deportation back to a country he has never seen and knows little about.
Up until now, children of foreign workers, whether illegal or legal, have been allowed to stay in the country, attend school and access all services. But that is now changing after the interior minister, Eli Yishai, indicated that illegal labourers and their children will all be deported by the end of the school year.

There are approximately 300,000 migrant workers in Israel, and it is estimated that nearly 250,000 are without valid work visas. While the majority arrived here legally to work in the domestic, agricultural or construction sectors, many are left in a legal limbo once they overstay their visa, are fired, quit, or if their employer dies — as sometimes happens when one is caring for the elderly.
The Israeli government has said it wants to clear the country of all foreign labour by 2013.
But the move by the interior minister to deport children has caused a heated debate in Israel with human rights groups saying those who were born in the country should be granted citizenship rights and some accusing the government of bowing to relgious groups who want to cleanse the country of its non-Jewish population.
In a public statement to prime minister Benjamin Netanyahu, Zeev Factor, head of the Center of Organizations of Holocaust Survivors, said the government should remember the country's past history as a nation of exiles.
"You have a moral obligation, especially in light of what happened to the Jewish people," he said.
"These are children who only know this country and speak only our language, and a child must not be deported from the land in which he was born solely due to his origins — this is a lesson engraved in our flesh."
Michael and his sister Michelle, 14, are among 1,200 children facing deportation. Their parents, Eldy and Judith, came to Israel from the Philippines in 1992 and 1993, respectively. Both worked legally in the home of a foreign ambassador.
In 2007, their employer left and they were without a work visa. However, at the time the government had a policy of not deporting families who had children in the country, so for the time being they were safe.
But with this week's ruling, the entire family is facing deportation.
Judith's concern is not for herself or her husband. As adults, deportation means a return home. But for the children, a move to the Philippines would be devastating — Israel is all they know, she says.
Filpinia teenager K, whose parents asked that she not be identified, is 16. With the end of high school near, and her friends gearing up for the mandatory military service, K has recently completed an army preparation course. Despite the fact she is not a citizen, she hopes to serve in the Israeli Defence Forces and to remain in Israel.
"I am Israeli," K said, in Hebrew.
When asked about the return to the Philippines, she said she does not speak the language nor understand the culture. "I will have to start my life all over again."
After having spent more than 20 years in Israel, K's parents, who are also facing deportation as they no longer have valid work visas, live in constant fear of being found out.
They limit their time outside of their apartment, hurrying to and from their housekeeping jobs. "We live like criminals," K's father said.
Under the auspices of Israel's National Immigration Authority, the Oz Unit has been cracking down on the estimated 250,000 illegal residents since July 1. The deportation of children of illegal workers was set to begin on August 1 but was delayed due to public outcry.
Dr Tally Kritzman, an assistant professor at the College of Law and Business in Ramat Gan and an expert in immigrant and refugee law, called the government's latest move "outrageous".
In 2005 and 2006, the Israeli government allowed children that met select criteria to become naturalised. But Dr Kritzman said that was not enough and called on the government to have a coherent immigration policy that reflwcted the need of all of its residents.
"As a state of immigrants, [Israel] should be more tolerant," she said.
The Israeli public, Dr Kritzman said, is opposed to the deportation of children. But the government is buckling to "pressure from religious parties who aren't interested in having non-Jewish [residents] in the country".
Roei Lachmanovich, a spokesman for the interior minister, said the government was simply trying to minimise the number of foreign workers.
He said the change in policy to deport children was intended to stop women taking advantage of a caveat in the law that allows illegal workers with children to remain in the country.
"The decision is against the illegal workers who get pregnant and think it gives them permission to stay here. If these women want to change their situation they should do it by themselves and not by having a child … there's a way that these parents use the children [to stay in Israel]."
Mr Lachmanovich said the deportations would not take place immediately. "We're giving them until the end of the school year to make the procedure easier for them," he said. The extra eight months would allow parents to get in touch with their families back home and make arrangements for a smooth transition.
Regardless of when it occurs, "deporting children and their families is not humane", said Hanna Zohar, the director of the Israeli nongovernmental organisation Kav LaOved (Worker's Hotline).
"They are not only workers. They are human beings in all respects. [The government] can't tell them they are good enough to work but not to have children.
"Israel decided to bring migrant workers, [but they] needed to know they were bringing human beings."