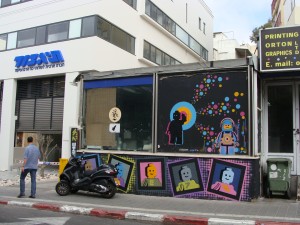 The Jerusalem Post, October 23, 2009
Over-sized Lego men aren't something you normally see in an art gallery. But a new exhibition at Tel Aviv's Kishon Gallery brings the work of street artist Ame72—known for playful Lego-inspired figures that decorate walls throughout the city—indoors.
Not only is "Let's Go!" Israel's first solo show of a British urban artist, Ame72 is arguably amongst the most prominent and well-established of the local street art scene.
Ame72 is something of a founding father in the urban art arena—when he moved here four years ago with his Israeli wife, there wasn't much of a local movement to speak of. Soon after his arrival, Ame72 recalls, he teamed up with a French artist to produce the city's first major work of graffiti. Like this piece, many of the images that are found in Tel Aviv today are created by foreign-born artists. "There is a lack of homegrown artists," Ame72 remarks. "The street art scene in Tel Aviv is still developing," Ame72 says.

Ame72 got his start in Sheffield, England. He was four when his family's TV broke and his father bought him a Lego set; when he was 12 he saw Beat Street, an early 80s movie about New York City's booming hip-hop culture, which piqued his interest in graffiti and street art. "I was already painting," Ame72 says. After seeing Beat Street, he made "a natural progression into a different art form."
Today, Ame72's work fuses both of these early influences. His stylized Lego men, smiling and mischievous, are stenciled onto buildings all over Tel Aviv. One figure appears to teeter on one foot, barely keeping his balance as he carries a pencil longer than his body. We catch another Lego man mid-stride, with a spray paint can gripped in his toy hand, as he flees the scene.
Ame72 played with the same characters for his "Let's Go!" show, tweaking them for the gallery setting. In an installation, a model Lego man in a paint-splattered sweatshirt stands before a simulated "Mona Lisa" that has been given a new yellow face. An oblivious security guard, a smiling Lego head peeking out from under his cap, faces the viewer. It's a scene that is certain to elicit grins.
And that's exactly what Ame72 aims for.
"If [my work] makes anyone smile, it was worth doing," he says, calling viewers' joy "the most gratifying feedback."
But, in contrast to the "Let's Go!" exhibition, not all of Ame72's images are upbeat.
"Being here," Ame72 says, "is going to have an effect on anyone." Since moving to Israel, he explains, some of his work has become more message-driven. And, at times, Ame72 feels compelled to offer his art as commentary on current events.
The day after a ceasefire ended Operation Cast Lead, Ame72 traveled to Ashkelon and Ashdod. There, he put a series of images on buildings and shelters that "looked like they'd been bombed, had been bombed, or were next to buildings that had been bombed."
Recalling the day he did the work, he says, "It was poignant. It was a beautiful day but very still—just 24 hours before, there was a war."
Of the images, Ame72 remarks that they looked "smiley and happy, but deep down there is a message to everything. The setting affects the art." One of the murals depicted a cloud raining frogs. What was he trying to tell the viewer?
"Some things should never happen, but they do."
Ame72 has also painted on the separation wall. And he hopes that all of his work will help "promote peace."
Whether viewers are moved to smile, laugh, or contemplate current political affairs, Ame72 is making an impact on the international art scene. His work has been displayed in major galleries in Europe, the United States, and the Middle East, and he has added his images to buildings in cities around the world. Recently, Ame72's art was included alongside that of the famed street artist Banksy in a prestigious auction held by the British auction house Dreweatts 1759. Ame72's work has also been anthologized in several books.
When asked about hopes for his career, Ame72 offers an answer that is, perhaps, reflective of his artistic vision. "I want to keep having fun. I want to keep people smiling."
Ame72's "Let's Go!" is being held until November 13 at Kishon Gallery, 31 Frug Street, Tel Aviv. The gallery is open Monday through Thursday from 11 AM to 7 PM and on Fridays from 11 AM to 2 PM. Kishon Gallery is closed on Sundays.
Ame72's work can also be viewed on his website: www.ame72.com