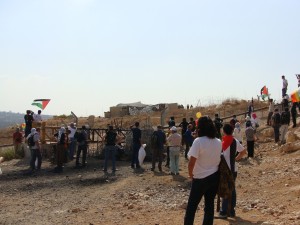 The National, October 31, 2009
Hebrew translation: here.
Every Friday, as midday prayers draw to a close, a few dozen protestors meet outside Bilin's humble mosque. From there, they march though the village, calling for an end to Israel's occupation of the Palestinian territories. By the time they enter a thin, dusty grove of olive trees adjacent to the barrier that separates Israel from the West Bank the crowd has usually grown to at least 100.
The area is considered a no-access zone, a no man's land, by the IDF. Israeli soldiers in riot gear wait on the other side of the barbed wire fence. They blast a siren and warn the demonstrators to disperse. Seconds later, the soldiers fire tear gas into the crowd. Sometimes, they shoot rubber-coated bullets.

The non-violent demonstrations in Bil'in, which began in 2005, have made the village an emblem of the grassroots struggle against the separation barrier and Israel's illegal annexation of Palestinian land. But Bil'in is not just a symbol of Palestinian resistance—each week nearly a quarter of the crowd is Israeli.
Supporting the Palestinian cause is not simple for Israelis—it can come at a steep price.
B, a 20-year-old Israeli who requested his name not be used, takes part in the demonstration in Bil'in every week. He keeps his actions a secret from his family, and he only tells a few friends, and for good reason.
Two years ago when he defected from the army, just weeks into his mandatory service, his parents kicked him out of the house. His family, he said, are Mizrahi, Jews of Arab origin. Like most Mizrahi, they are conservative and rightwing, supporting hard-line political parties, such as Benjamin Netanyahu's Likud party.
B does not consider his actions unpatriotic. By participating in the demonstration in Bil'in, he said, he is guarding Israeli democracy.
He offers an example—at a recent protest, a protestor put a Palestinian flag on the separation fence and an Israeli soldier tore it down. "Taking the flag down doesn't protect anyone. The Palestinians have a right to display their view … I was told in school this is a democratic country."
So B put on a gas mask and draped another Palestinian flag on the barbed wire. "The protest is also about justice and being moral."
Arthur Nelsen, a Middle East analyst and author, comments that neither B's attitude nor young age is surprising. "[T]here does seem to be a new generation of youngsters making themselves heard."
And, according to Nelsen, Israeli democracy does indeed seem to be under fire. "The current Israeli government's attacks on Breaking the Silence's [an Israeli NGO opposed to the occupation] funders, raids against [left-wing organization] New Profile, and attempts to outlaw naqba commemoration are clearly anti-democratic and aimed at repressing dissent… [T]he current authoritarian government in Tel Aviv has had a chilling effect on free expression."
Still, Israelis continue to speak out.
Suzanne Moses, 80, is another peace activist. Now retired from her career as a stewardess, she divides her time between a countryside home in Switzerland, which she shares with her husband, and Tel Aviv.
"I don't have some huge ideology," Moses said, pointing out that, like the majority of Israelis, she supports a two-state solution. "I don't wake up in the morning thinking 'I'll fight the occupation!' I just think that we should act morally."
As a Holocaust survivor, Mrs Moses experienced inequality firsthand. Born in southern Germany, she was sent to Gurs, a concentration camp in France, at the age of 11. After the end of the Second World War, she was stateless until she immigrated to Israel from Switzerland at 29.
But the Holocaust does not excuse the occupation or settlements, Mrs Moses said.
Settlements have become a political flashpoint in recent months as a new US government tries to push Israel to stop building new outposts in Palestinian land in hopes of revitalizing peace talks. Mr Netanyahu, however, has refused. Earlier this week, the defence forces confirmed building in at least 11 settlements in occupied land was taking place.
And when Mrs Moses and others join Palestinians in the groves, there is often the risk that they will face-off against violent settlers, intent on destroying the annual harvest.
In an olive grove on the edge of Jamma'in, a small village nestled in the hills of Nablus, Israelis and Palestinians pluck fruit from the trees, side by side. Idyllic at first glance, the scene is fraught with tension—just days before, gun-toting settlers from Kfar Tapuach showed up here and harassed Palestinian families. Sometimes the settlers throw stones and human excrement; occasionally, settlers set fires to the groves.
Without the aid of Israeli volunteers, Palestinian farmers are often too frightened to gather their crop, even if they depend on it for their livelihood.
That's why Nurit Tohai, 62, joins.
"Everyday, something happens to the Palestinians because of the settlements," Mrs Tohai said. "As an Israeli, I feel like I need to do something."
"If you don't go," she said, "they don't eat."
For Keren Manor, 32, there is a need to better her society. "As an Israeli, I have a responsibility to fight the things being done in my name," she said.
Ms Manor, once an officer in the army, now attends a variety of demonstrations on a regular basis.
She has been arrested and fined "many times". In January, during Operation Cast Lead, she was held in jail for three days before being released. And at one non-violent protest in the West Bank village of Nilin, an Israeli soldier shot a rubber-coated bullet into her leg. Surgery was required to remove the bullet lodged in her thigh.
When she first started participating in protests Ms Manor's parents, whom she described as "Mizrahi… mainstream and militaristic," thought it was dangerous for her to be around Arabs. "Now they worry about me going to places where the army and the settlers are."
Her parents' political attitudes have also changed, and Ms Manor credits her activism. In the last election, she said, her father voted for Meretz, a left-wing party that is opposed to both settlements and the occupation.
It's a testament, Ms Manor said, to the power of grassroots movements.
Such shifts in the Mizrahi community, which hovers around 50 percent of the population, are particularly threatening to the Israeli government, Nelsen says. "The establishment has also tended to punish [Mizrahi] more severely, as an example to others in their community. Many believe that Tali Fahima, a Moroccan Jew who befriended a leader of the Jenin Al aqsa Martyrs brigade, had to be vilified with a lengthy prison sentence so as to deter others in her community from following her lead…"
But Ashkenazis, Israelis of European descent, also find themselves the targets of censorship or punishment as Ben Ronen, a 26-year-old peace activist, reports.
During Operation Cast Lead, Ronen attended a non-violent demonstration at the Sde Dov air force base near to Tel Aviv. On January 11, Ronen, along with 18 other protesters, was arrested.
That was only the beginning of his trouble.
When he got out jail three days later, he returned to his apartment in Tel Aviv only to find that it had been torn apart by police. The police had taken posters that called for boycotting Israel, and t-shirts that included slogans against the separation wall.
The items police took, Ronen says, were "nothing too radical."
But a few nights later, Ronen was stopped on a busy Tel Aviv street. "I was standing at an intersection," he recalls, "and all of the sudden there was a hand on my shoulder." Two other detectives joined the first and they informed Ronen he was under investigation for the posters and t-shirts they'd obtained from his home. They took him to the police station. After two hours, they released him.
The harassment, which Ronen calls "KGB style" continues still today. The detectives call him by name, he says, stop him in the street day and night, and search his belongings.
"You have to deal with it if you live in this country."